dōTERRA Essential Oils

Most often, in my treatments, I'll be using dōTERRA essential oils (Certified Pure Therapeutic Grade) to address different ailments and concerns, as I see fit. If you have any questions about essential oils in general, please read my FAQ that reviews some common questions and uses for essential oils.
Please let me know if you have any smell aversion prior to your treatment so I can take that into consideration.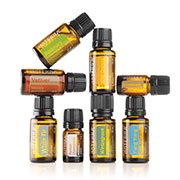 Here is a short video About dōTERRA.
To purchase the oils RETAIL, follow this link.
To purchase them WHOLESALE (25% cheaper than Retail), contact me.
To be added to the NEWSLETTER, subscribe here.